Past seminars – Fall 2020
Throughout the academic year, the Center for Latinx Digital Media invites you to a series of weekly seminars held over Zoom.
During the Fall 2020 quarter, the series took place from September 22 to November 24. Check the full lineup and find the video of the seminars below.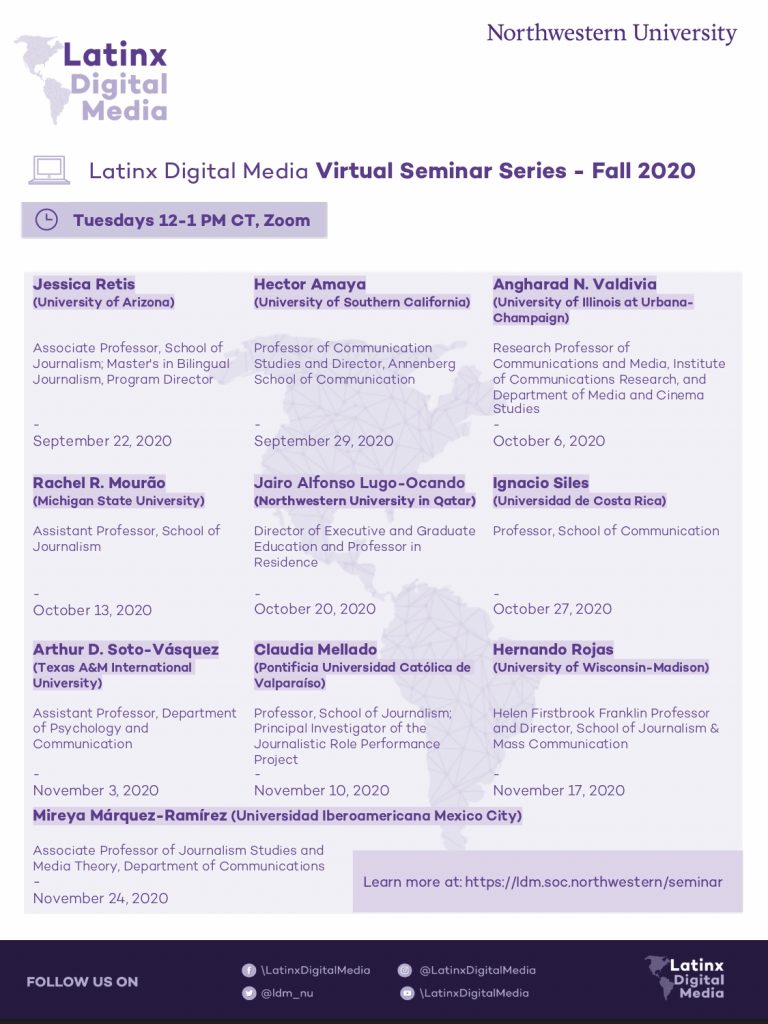 Watch the full videos of the Fall 2020 seminars below:
Prof. Jessica Retis (University of Arizona) – "Bilingual journalism in the digital age: Serving Latinx audiences in translocal contexts" (09/22/20)
---
Prof. Hector Amaya (University of Southern California) – "The uses and misuses of anonymity in the Mexican blogosphere" (09/29/20)
---
Prof. Angharad N. Valdivia (University of Illinois at Urbana-Champaign) – "Disney, Gender, Generation and Latinidad? Stuck in the Middle as a metaphor for the ambivalent and ambiguous location of the US' most numerous 'minority'." (10/06/20)
---
Prof. Rachel R. Mourão (Michigan State University) – "When the right protests: How Brazilian journalists perceive and cover conservative moments" (10/13/20)
---
Prof. Jairo Lugo-Ocando (Northwestern University in Qatar) – "Twitter use, authorial control and agenda setting in Latin America's non-profit investigative journalism organizations" (10/20/20)
---
Prof. Ignacio Siles (Universidad de Costa Rica) – "Datafication as culture: Living with algorithms in Latin America" (10/27/20)
---
Prof. Arthur D. Soto-Vásquez (Texas A&M International University) – "Mobilizing the Latinx vote:Media and politics in the 2020 election and beyond" (11/03/20)
---
Prof. Claudia Mellado (Pontificia Universidad Católica de Valparaíso) – "Journalistic performance and identity construction on digital media spaces" (11/10/20)
---
Prof. Hernando Rojas (University of Wisconsin-Madison) – "Digital/Social media and polarization: A good hypothesis that the data fail to support" (11/17/20)
---
Prof. Mireya Márquez-Ramírez (Universidad Iberoamericana Mexico City) – "Repairing the journalistic paradigm in Mexico: Award-winning journalists and their leadership to rebuild their field" (11/24/20)
---