Past seminars – Fall 2022
Throughout the academic year, the Center for Latinx Digital Media invites you to a series of weekly seminars held over Zoom.
The series took place during the Fall 2022 quarter from September 22 to December 1. Check the full lineup and find the video of the seminars below.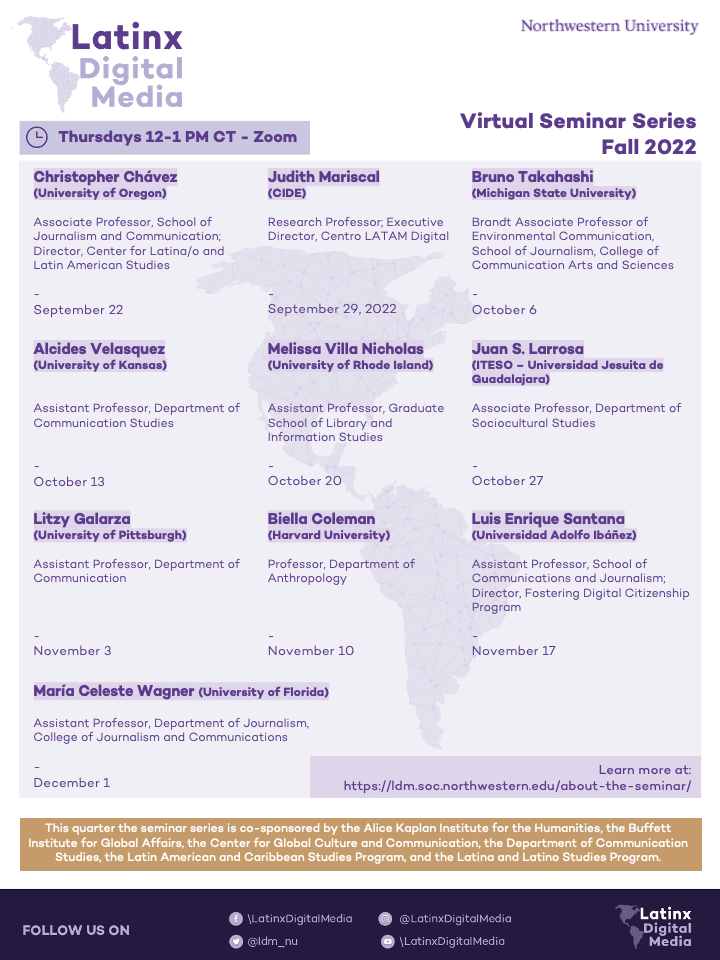 Watch the full videos of the Fall 2022 seminars below:
Prof. Christopher Chávez (University of Oregon) – "Whose is the Voice of the American Public? National Public Radio and the Politics of Sound" (09/22/22)
---
Prof. Judith Mariscal (LATAM Digital and CIDE Mexico) – "The role of digital policy in catalyzing a more equitable development" (09/29/22)
---
Prof. Bruno Takahashi (Michigan State University)- "Broadening participation in environmental communication research: A Latin American perspective" (10/06/22)
---
Prof. Alcides Velasquez (University of Kansas) – "Latinx' Social Media Political Expression as Coll(rr)ective Action" (10/13/22)
---
Prof. Melissa Villa-Nicholas (University of Rhode Island) – "Data Borders: How we are all Intimately Entwined in Detention and Deportation" (10/20/22)
---
Prof. Juan S. Larrosa (ITESO – Universidad Jesuita de Guadalajara) – "Infrastructuring a Public Communication System to Fight a Pandemic" (10/27/22)
---
Prof. Litzy Galarza (University of Pittsburgh) – "Cultural Translation and Latinx Labor in Disney/Pixar's Coco" (11/3/22)
---
Prof. Biella Coleman (Harvard University) – "The Hack and Leak and the Rise of a New Hacktivist Tactic" (11/10/22)
---
Prof. Luis Enrique Santana (Universidad Adolfo Ibáñez) – "Digital Citizenship in Latin America: What do we refer to when talking about digital citizenship?" (11/17/22)
---
Prof. Celeste Wagner (University of Florida) – "Feminism, Communication and Social Change in the Americas: A Comparative Analysis of the Argentina of Ni Una Menos and the United States of #MeToo" (12/1/22)