Past seminars – Winter 2021
Throughout the academic year, the Center for Latinx Digital Media invites you to a series of weekly seminars held over Zoom.
During the Winter 2021 quarter, the series took place from January 14 to March 18. Check the full lineup and find the video of the seminars below.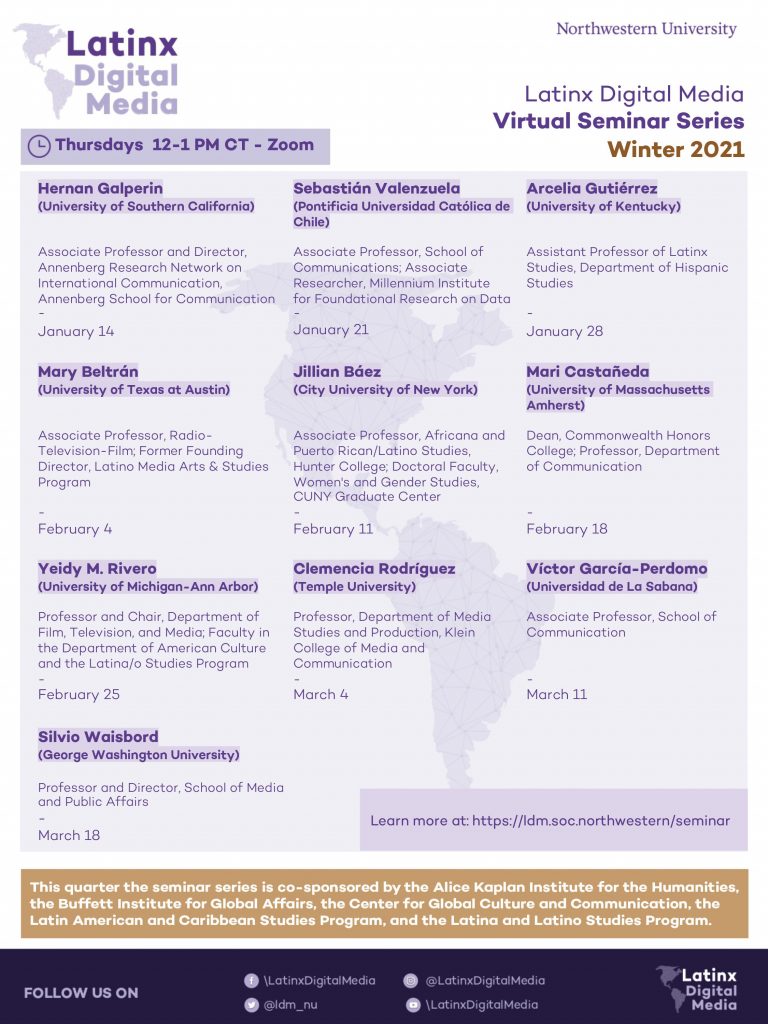 Watch the full videos of the Winter 2021 seminars below:
Prof. Hernan Galperin (University of Southern California) – "Digital inclusion and educational equity: Lessons from the COVID-19 pandemic" (01/14/21)
---
Prof. Sebastián Valenzuela (Pontificia Universidad Católica de Chile) – "From optimism to pessimism to neither: The influence of social media on democratic citizenship" (01/21/21)
---
Prof. Arcelia Gutiérrez (University of Kentucky) – "Competing ethnoracialized counterpublics: #OscarsSoWhite​, Black Twitter, and Latinx Twitter" (01/28/21)
---
Prof. Mary Beltrán (University of Texas at Austin) – "Latina/o TV Histories and Cultural Citizenship: '80s Network Failures and a.k.a. Pablo" (02/04/21)
---
Prof. Jillian Báez (City University of New York) – "Performing representational labor: Blackness, Indigeneity, and legibility in global Latina/o/x media cultures" (02/11/21)
---
Prof. Mari Castañeda (University of Massachusetts Amherst) – "Voicing racism and resistance: A Latina/o Critical Communication Theory analysis of the "Build that Wall" discourse" (02/18/21)
---
Prof. Yeidy M. Rivero (University of Michigan – Ann Arbor) – "Spanish from nowhere: Miami's America's Production Inc. and accent-less Spanish-language radio in the 1960s" (02/25/21)
---
Prof. Clemencia Rodríguez (Temple University) – "New paths toward decolonizing research: Transformative fieldwork experiences in Northern Colombia" (03/04/21)
---
Prof. Víctor García-Perdomo (Universidad de La Sabana, Bogotá, Colombia) – "Understanding data journalism in Latin America: Between open-coding culture, transparency and investigative reporting" (03/11/21)
---
Prof. Silvio Waisbord (George Washington University) – "The craft of communication scholarship: Research, writing and publishing in the global academia (03/18/21)