Upcoming seminar
Throughout the academic year, the Center for Latinx Digital Media invites you to a series of weekly seminars held over Zoom on Thursdays from 12-1 PM CT. The seminars are free and open to everyone, and they only require you to register in advance. Check our full lineup for the Winter 2023 quarter here.
The first seminar of the Winter 2023 series will happen on February 2, 2023, at 12-1 PM CT.
Prof. Lucía Magis-Weinberg (University of Washington) will give a presentation entitled "Social media and adolescent mental health during the COVID-19 pandemic in Perú and México." Register here.
Abstract: The COVID-19 pandemic exacerbated the existing adolescent mental health crisis. At the same time, the pandemic need to connect, learn and be entertained at a distance, highlighted the positives of digital media, which are typically portrayed as a threat to adolescent mental health. Leveraging an existing collaboration with schools in Perú and México to promote digital citizenship, this project examined the risks and opportunities afforded by social media to mental health. This project provides new insights into Latin American adolescent resilience and vulnerability in a globalized digital age.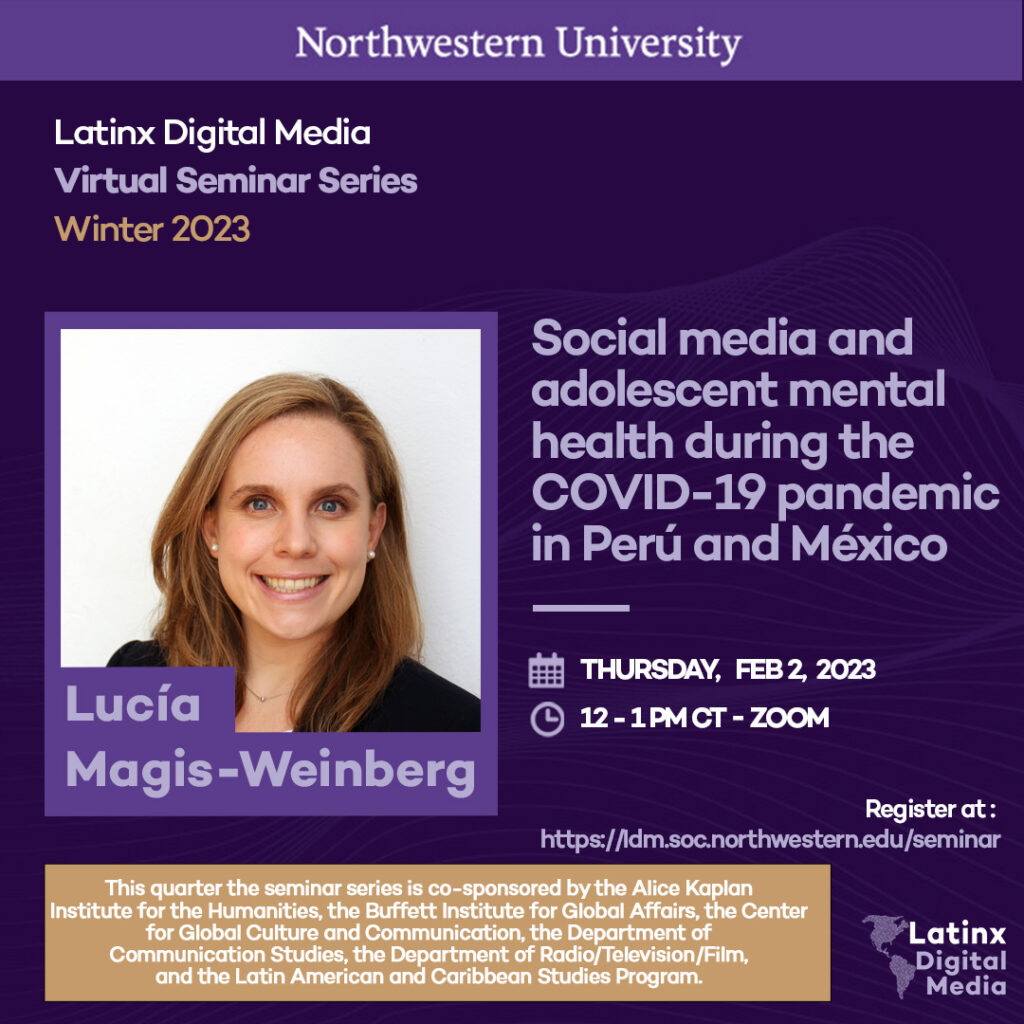 Lucía Magis-Weinberg, MD, PhD, is an Assistant Professor in Psychology at University of Washington where she directs the interACTlab (International Adolescent Connection and Technology Laboratory). She received her MD from UNAM and her PhD in Developmental Cognitive Neuroscience from UCL and was a postdoctoral scholar at UC Berkeley. She is Executive Editor of Neuromexico.org and member of the SNI (Sistema Nacional de Investigadores – México).
This event is co-sponsored by the Alice Kaplan Institute for the Humanities, the Buffett Institute for Global Affairs, the Center for Global Culture and Communication, the Department of Communication Studies, the Department of Radio/Television/Film, and the Latin American and Caribbean Studies Program.
Registration:
Registration here for Prof. Magis-Weinberg's seminar next 2/02/23 at 12-1 PM CT.