Past seminars – Spring 2021
Throughout the academic year, the Center for Latinx Digital Media invites you to a series of weekly seminars held over Zoom.
During the Spring 2021 quarter, the series took place from April 8 to June 10. Check the full lineup and find the video of the seminars below.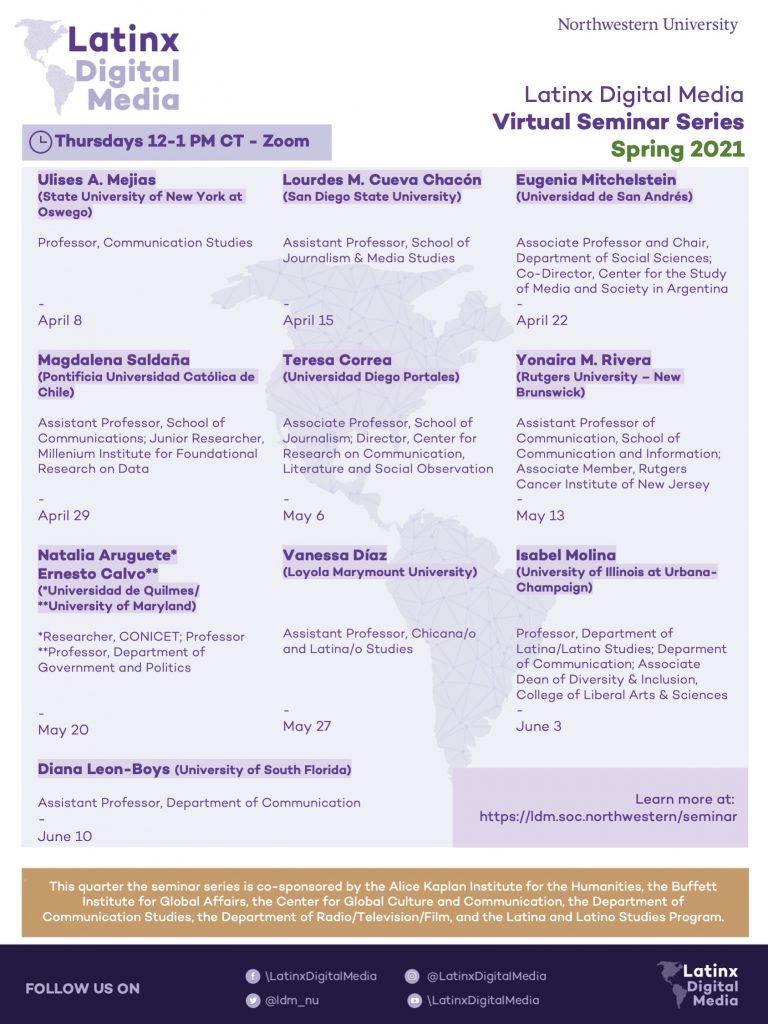 Watch the full videos of the Spring 2021 seminars below:
Prof. Ulises A. Mejias (State University of New York at Oswego) – "Colonialism, Data, and Latinx: From 'Informantes Nativos' to 'Sujetos No-Alineados" (04/08/21)
---
Prof. Lourdes M. Cueva Chacón (San Diego State University) – "Motivations, challenges, and the role of digital technologies in (trans)national collaboration in Latin American journalism" (04/15/21)
---
Prof. Eugenia Mitchelstein (Universidad de San Andrés) – "A medium of one's own: Women and the media in Argentina" (04/22/21)
---
Prof. Magdalena Saldaña (Pontificia Universidad Católica de Chile) – "Haters gonna hate: Incivility and hate speech in user-generated comments" (04/29/21)
---
Prof. Teresa Correa (Universidad Diego Portales) – "Digital inclusion through mobiles: An opportunity or a trap?" (05/06/21)
---
Prof. Yonaira M. Rivera (Rutgers University – New Brunswick) – "Understanding the impact of engagement with cancer (mis)information among Latino Facebook users" (05/13/21)
---
Profs. Natalia Aruguete (Universidad de Quilmes) and Ernesto Calvo (University of Maryland) – "My partisan friends live in a bubble: Framing and perceived polarization in social media" (05/20/21)
---
Prof. Vanessa Díaz (Loyola Marymount University) – "Manufacturing celebrity: Latino paparazzi and women reporters in Hollywood" (05/27/21)
---
Prof. Isabel Molina-Guzmán (University of Illinois at Urbana-Champaign) – "Black/Latinidad: Racial performance as visual technology" (06/03/21)
---
Prof. Diana Leon-Boys (University of South Florida) – "Flexible Latinidad at Disney theme parks: A Bi-coastal situated ethnography of Elena of Avalor" (06/10/21)